Below are some pics form Gothic Wars. We will add more Later.
A friendly battle of Titans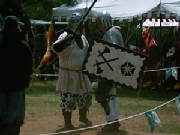 Gothic Wars, 2005 (AS: XXXX)
The Drawing for the Dragon Bone Swords
A fund raiser for victims of Katrina.
Harker Frako ot Dragon Bone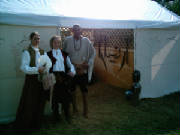 Outside our tent with a pair of young maidens
Bellus Drako ot Dragon Bone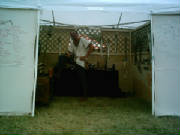 Inside out booth at Gothic Wars
If you have pictures from this event that you would like to contribute, please e-mail them to:

whitewolf1969a@hotmail.com

with "Gothic Wars" in the subject line.
Thanks to all of those who participated in the raffle for the Dragon Bone Swords, it was a great success! We raised $226.00 for the victims of hurricane Katrina!
The Dragon Bone Swords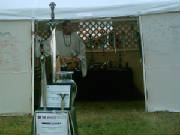 Raffled off for victims of Katrina (Click to enlarge)
Many thanks to Lord Aradonn, Lady Eithne, and the House fo Falcon Rose for their hospitality and their good company we are honored and pleased to have met them and look forward to our next meeting!
Thanks to Lady Kasinda of the Briar Patch for her warm welcome and wise counsel, and for reccomending this event to us. We had a splindid time!
Thanks to all the Lords and Ladies who visited us at this event, and signed our tent. We hope to see you all again real soon!